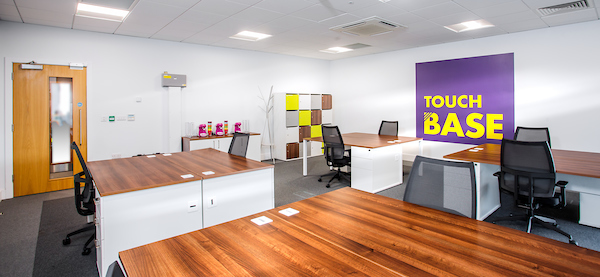 Ever thought to yourself "I don't need a co-working space; I have a home office"?
Here's 5 reasons you can benefit from a co-working space…
1. Working from home can sometimes leave you feeling isolated. Being in a co-working environment can end this feeling of disconnection. Throughout the day, you will have the opportunity to work alongside a room of skilled co-workers whom you can interact with and be inspired by.
2. The networking opportunities are endless. Having a shared space at The Base and creating a sense of community is another reason why people choose co-working with us. Being in a co-working environment ensures you surround yourself with goal-oriented and high-achieving professionals. You never know who you will meet in our space as we have such a wide array of professionals under one roof who can help move your business forward.
3. The power of flexibility. Let's say one day you may want to work early in the morning, and the next day during the afternoon into the evening. Here at The Base, the opportunities are endless, and you can choose as long or as short a stay as you please. As a professional, you decide when and where you work.
4. Productivity is increased when you co-work in our space. The buzzing social atmosphere here at The Base can be the incentive you need to produce some of your best ideas. The distractions of working from home are decreased and being surrounded by committed professionals every day is a great motivator.
5. Co-working spaces like ours have their perks. There are some aspects of the office environment that just can't be replicated from home. For example, The Base offers Free Wi-Fi within meeting and communal areas, a fully-equipped kitchen on each floor, shower and locker facilities, a range of meeting room facilities for hire and external cycle storage.
Do you have any thoughts on the benefits of co-working? Let us know in the comments.
Want to know more about The Base?
The Base is a Grade-A office and co-working space in the centre of Warrington that's home to many market leading digital technology and advanced engineering companies. Whilst calling The Base your home, you will have access to free business support, including marketing, tax, legal advice, as well as help with innovation, research and development.
Contact us for more information.