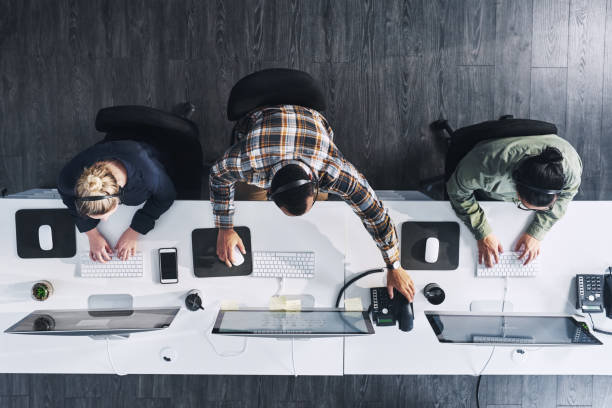 How is technology improving the workplace?
One thing about technology is that it keeps evolving to provide us with ways to make our lives better by speeding up and simplifying everyday tasks and processes. It can also help us communicate, get organised, and keep us safe. The same applies when it comes to the workplace, so let's look at just how technology is improving the workplace.
Staying connected
One of the biggest ways technology has improved the workplace is how easy it's made communication. Whole teams or organisations can meet online instantly or collaborate and work on projects together more simply than ever before. All they need is a PC, laptop, or smartphone. Employees don't even need to be in the same location to work together or review tasks.
Boosting productivity
This links to the previous point, as ultimately, improved communication leads to better productivity. Technology can also help employees manage their workload more efficiently and concentrate on jobs with pressing deadlines or those that are the most urgent. Getting people involved earlier or getting management sign-off is easier with improved technology too, so more tasks can be completed on schedule.
Enhancing security
Technology can help here, as it can give the right people the right level of security they need. It can also speed up sign-off on projects by reducing the manual processes often associated with it. Errors are reduced too, as technology will have stricter parameters and protocols that are impossible to bypass. Technology can also help spot phishing attempts and train your team on what to look out for to reduce security breaches.
Better workplace environment
Technology plays a part here too, as many workplaces now have sensors installed capable of controlling noise levels, temperature, and lighting to create a comfortable environment for people working in the building. This helps make people feel more productive, as well as improving their wellbeing.
Improving employee experience
Employees are the same as everyone else. They want their lives to be as easy as possible when at work and they expect technology to help them do this. Most are used to using smartphone apps and online systems and will be able to use them at work too. But they will want the systems in their work lives to be as intuitive and advanced as those in their home life.
Using it to meet your needs
Most technology can be used to fit your business model. You might not need every feature a programme offers, or you might need to adapt here and there, but you can find ways to improve every aspect of your workplace. You can encourage teamwork, promote collaboration, and improve efficiency and output through the right technology in your workplace. And that can only be a good thing.
Want to know more about The Base?
The Base is a grade A office and co-working space in the centre of Warrington that's home to many market leading digital tech and d advanced engineering companies. You can also get business support from The Base, including marketing, tax, legal advice, as well as help with innovation. and research and development.
Contact us for more information.